Big Mike of the Geto Boys is prepping the release of his new album, Finish The Job, for September 2020.
The former Geto Boys alum has announced the release of his upcoming album Finish The Job, with the 13-track project featuring tracks including "Mercy On Me," "Everythang Iz Everythang" and album single "Finish The Job." Additional cuts include "Pay Homage" and "Blazing."
Big Mike, who left the Geto Boys in the early '90s, was originally a member of The Convicts with Mr. 3-2 before being recruited by J. Prince and Rap-A-Lot Records to join Scarface and Bushwick Bill in the Geto Boys after the departure of Willie D. Thanks to the incredible performances he put in on songs like "Crooked Officer", "Murder After Midnight" and several other tracks, Big Mike began a successful solo career and released a trilogy of highly-celebrated efforts starting with 1994's Somethin' Serious, and including 1997's Still Standing and 1999's Hard to Hit, respectively.
Check out Big Mike's Finish The Job tracklist below: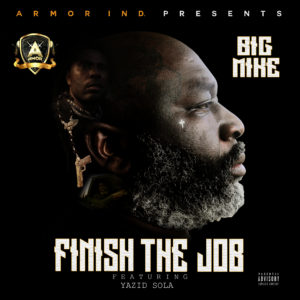 The Check In
Finish The Job
Roll Out (Ft. Yazid Sola & Ricky Latt)
Preciate Cha (Ft. Yazid Sola & Choclett P)
Blazing (Ft. Jay South)
Mud On My Jeans (ft. Chuey "Thunderfoot" Black)
Armor IND (ft. Cuzn Lucky, Yazid Sola, and Jimi Starr)
Everythang Iz Everythang (ft. Yazid Sola)
Pay Homage (ft. Mannie King)
Supervision (ft. Yazid Sola & King Dayly)
Mercy On Me (ft. Ricky Latt)
Progress (ft. Yazid Sola)
Fine Oil (Ft. Yazid Sola)