Grammy Award-winning producer Ayo has shattered new records with Cardi B and Megan Thee Stallion on their chart-topping release "WAP". The track racked up 93 million streams in the United States in the week after its release on Aug. 7, 2020 — the most ever recorded for an opening seven-day period, according to Nielsen Music, which propelled the song straight to No. 1 on Billboard's Hot 100.
As part of the production duo Ayo n Keyz, he's worked with a steady list of music industry heavyweights including Lil Wayne, Ty Dolla $ign, J Balvin, Bryson Tiller, and Chris Brown to name a small few. Their fourth Grammy nomination turned into a win in 2019, when Cardi B's Invasion of Privacy took the award for Best Rap Album, thanks to their production on fan-favorite "Bickenhead."
In this Conversation With Chad interview on West Coast Styles, Ayo sits down with Chad Kiser and discusses his chart-breaking success reaching new heights with the release "WAP" and he gives us his reaction to the Cardi B & Megan Thee Stallion collaboration record, producing Ayo N Keyz break-through record "Let's Talk" with Omarion and Rick Ross, working with Chris Brown, and how his pastor parents feel about "WAP".
– – – – – – – – – – – – – – – – – – – – – – – – – – – – – – – – – – – – – –
CK: Tell me about making Cardi B's "WAP" record and how the whole concept came together, and utilizing Frank Ski's "Whores in This House".
Ayo: I'm from the South and Keyz is from New York, but Keyz moved to the South. Frank Ski's "Whores in This House" is one of those records you hear at every party and club along with songs like "Tootsie Roll", 69 Boyz, Trina, and Ying Yang Twins. When we go to the clubs, we of course enjoy ourselves, but at the same time we're studying the music and what people groove to, and looking for other records to flip like what we've done in the past with Wiz Khalifa's "Something New", YBN's "Fuck It Up" was a sample as well.
We knew Cardi B was working, so we went through our list of samples we had. I thought we were going to be pushing it with this one, but it was worth it. Thankfully, we got a call back from Craig Kallman, the Chairman over at Atlantic Records. He said he loved the record and wanted us to make three or four options for them to pick from. Next thing we know, the song was out!
CK: Did you have Cardi B specifically in mind when you made this track?
Ayo: Absolutely. It's crazy because we were thinking Cardi B, Megan Thee Stallion, or City Girls. We thought one of them would take it. To have two out of three on the record is insane.
CK: Was everybody in the studio working on the record?
Ayo: We weren't able to actually be in the studio with them, especially during Covid, but we were definitely able to keep that contact with the label and the team via e-mail and Google Meet working on the instrumental. When it comes to working with Cardi B it's like working with the Secret Service. Everything is so closed, nothing slips through the cracks.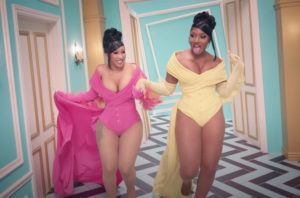 CK: When you first heard the "WAP" record, what were your thoughts on the finished product?
Ayo: We knew what the instrumental sounded like, but not the song itself. We were watching the countdown on YouTube just like the rest of the world. When it dropped, I was in shock between the video and the lyrics. Part of me thought the industry was going to try and shut this whole thing down just because of how explicit it is, but then social media began to show you how much women, in particular, loved the song. I believe with the music that if the women love it, the men will follow.
But I was in shock, I didn't know how to take it. The first thing I did was call my parents because my parents are both pastors. I was like, "Mom and Dad, I have this song that just came out, it's going to be a gracious moment, but don't EVER listen to the song. I don't care who tells you to, don't ever listen to it."
CK: With your parents being pastors, and you being in music and having to produce songs like "WAP", does that conflict with your upbringing?
Ayo: I knew I wanted to do music, but I didn't know how to go about telling my parents. My dad is one of those people that I've always looked to for approval. I remember when I finally told him he was like, "Look, there's nothing to be worried about. You're not the one writing these lyrics, you have a job and your job is to make the music. As dark of a place that the industry can be, just make sure that you're that light, so when people see you they see that light and are motivated to be closer to that light." He's a supportive man.
CK: The record racked up 93 million streams in the United States in the week after its release on Aug. 7 — the most ever recorded for an opening seven-day period. Were you surprised by the popularity of the song?
Ayo: It's crazy, and it's all just now starting to hit me. The support was overwhelming. To see how much was happening on social media like how many Tik Tok's, how many views, how many posts are being made, and on the other side we're getting the likes, the comments, the phone calls, and the e-mails. It was just so much that I started to have anxiety for the first week. I didn't know how to process it. But now I see that this is how it was supposed to be, to where it's even reaching a political level. People saying, "Oh, well Cardi B is a Democrat and this is the music she's making, but I get it because they feel threatened by the influence that she has. For her to be so strongly motivated and opinionated about her political views, it's a much needed reminder of not only the power our culture and hip-hop has, but to also witness a woman who literally came from nothing and is able to have a voice like that to where you have CNN reporters pulling up to people talking about it is motivation.
CK: "WAP" isn't the first time you guys worked with Cardi B. The song "Bickenhead" from the now 3x Platinum Invasion of Privacy album turned Ayo N Keyz into Grammy Award-winning producers. How did you initially connect with Cardi B?
Ayo: We were initially just working on music. We have a close relationship with Atlantic Records, as well as a mutual friend who helped put it all together. Super Nes brought the sample to jump start the whole vibe, so shout out to him as well!
CK: Other than "WAP", are there any other upcoming songs you're working on with Cardi B?
Ayo: We'll see! It's like I said, it's like working with the Secret Service over there. When y'all find out is when I'll find out!
CK: Let's go back a little bit. The big breakthrough for Ayo n Keyz came through the Omarion and Rick Ross record "Let's Talk". Tell me how this record set things off for you and how you connected with Omarion and Ross.
Ayo: That moment is a moment that really helped to solidify us in believing that we are moving in our purpose. That was me and Keyz first record together after starting our company, and it hadn't even been a year yet. For us, we believe in studying the people you want to be like. The producers that are really talked about are building with different songwriters and not just shopping beats, but shopping whole ideas. We partnered with this dope artist/songwriter named Chris Echols, who wrote "Let's Talk". At the time I working with Spiff, who was the A&R for all of Ross' stuff and who's also from my hometown of Orlando, Florida. He really looked out and wanted to do everything he could to put the city on, and that's really how it happened. Spiff was able to get Omarion on it, which ended up being Omarion's debut song on MMG, too. It was just a big moment, man.
CK: Working with Chris Brown must have been interesting, but tell us about working on the records "To My Bed", Covered You" from the 2x Platinum Heart Break on a Full Moon album, and "Proof" from the Royalty album respectively.
Ayo: Chris is one of those people who can do anything. Everyone has that one friend that can do anything and everything, and there's very few people like that. Chris is one of those people. He's an amazing singer, an amazing rapper, an amazing artist, an amazing dancer, and an amazing performer. We have a saying: find the small fish, while fishing for the big fish. He was one of the big artists that we thought would help make our careers better and give us a real name in the industry. But to have the opportunity to just keep coming back and be able to submit records again to work with Chris is a blessing because in this industry a lot of times you're able to get lucky to land one song with an artists, but then never hear from them again.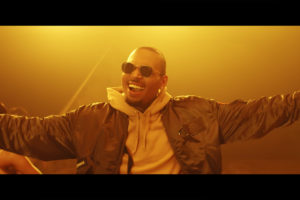 CK: Working with such a vast array of artists and musical genres, what's your approach when producing a Chris Brown vs a Cardi B, for instance?
Ayo: For us, I feel that's true to who we are as Ayo n Keyz. I never wanted to be a one lane person, and I'm going to express myself in as many ways as I can. I don't want to be just a producer. When it comes to music, it's the same thing. We may be known for a "WAP" record, but you can go back and look at our discography and see what we've done. For instance, our last Grammy nomination was a dance record with Skrillex. Don't put yourself in a box, push yourself to the limits and challenge yourself because there's so many artists out here. That's really our take on it, man. To be great at producing, they always say, "Don't make what's now, make what's next." It's like "WAP", it feels like a great urban record, but if you listen to the production it doesn't sound like anything else.
CK: If you could collaborate with any one artist, who would it be, and why?
Ayo: Pharrell. He's not only an artist, but an amazing songwriter, and an amazing producer as well. He pushes himself outside of the box. He has his own clothing brand, his own books, he's a designer with Chanel. Seeing somebody who looks like me, and showing me that it doesn't stop at just being a producer. Even if we don't work together, I'd love to just sit down and talk.
CK: With all of the great success you've achieved thus far, what's next for Ayo n Keyz?
Ayo: We're focusing on developing new talent. We have our company UpperClassmen Music Group. It's not only signing people, but also protecting people from going through some of the battles and situations that we had to go through in finding our way through this industry. UCMG has some amazing songwriters and producers. We have artists as well like Asia Graves, we're working with a new artists named Summer Cory, who's going to be amazing. We're helping athletes like Aaron Gordon with their music careers, and we're definitely working on something super special with some athletes that will coming out in a month or two.