In examining the career of Sir Jinx you'll notice that he has several key and historical moments, including being one of the first to produce a collaboration record between the California cities of Oakland and Los Angeles with the Too Short and Ice Cube collaboration "Ain't Nothin' But A Word To Me", helping to usher in the first female west coast emcee with Yo-Yo, putting together the first collaboration between the West, East and South regions when he produced "Two To The Head" with Kool G Rap, Ice Cube, Scarface, and Bushwick Bill; as well as even producing the entire Kool G Rap album Live and Let Die and being credited with being the first west coast producer to produce an entire east coast project.
Producing classic albums and songs for some of the most instrumental artists in Hip-Hop like Ice Cube, Kool G Rap, Yo-Yo, Ice-T and numerous others, Sir Jinx has and continues to be an indisputable and significant part of Hip-Hop history.
From his early, and pivotal, C.I.A group work with Ice Cube leading to the monumental classics AmeriKKKa's Most Wanted and Death Certificate, Sir Jinx and his roots in Hip-Hop are irrefutably embedded.
In this exclusive interview with Chad Kiser on DubCNN, Sir Jinx talks about the early group C.I.A with Ice Cube and K-Dee, details working on the classic Ice Cube solo debut Amerikkka's Most Wanted and the making of "Once Upon A Time In The Projects", putting together the song "Ain't Nothin' But A Word To Me" with Too Short and Ice Cube, compares Eminem and MGK's diss tracks to "No Vaseline" and much, much more.
…………………………………………………………………………………
Sir Jinx: A DubCNN Exclusive Interview
Questions Asked By: Chad Kiser
…………………………………………………………………………………
DubCNN.com: Talk to me about C.I.A. with K-Dee and Ice Cube and working on those early songs like "My Posse", "Just 4 The Cash $", and "Ill-Legal".
We had another name at first called The Stereo Crew and we had landed a single deal with Epic Records when I was like 15 years old. We dropped a song called "She's A Skag". The funny thing is, and not many people know, that the song was featured in the Michael Jackson video to "Bad". We were really excited about that! We wanted to do more music, so we went back to Kru Cut Records with Dr. Dre, but he didn't like the name Stereo Crew for our group. Dr. Dre changed the name to C.I.A which was kind of like the beginning of the acronyms, so we could change it depending on the type of shows we were doing. It was Criminals In Action, but it was also Caught In Action. We were just trying to keep up with the genres of that time and what we knew, and how to develop good music, working with Dre and being up under Dre.
Me, Cube and K-Dee were hooked up with the Performing Arts out here in Los Angeles with Roy Kaufman and KDAY back in those days. We used to go and do shows at the prisons for the inmates and that's something I'll never forget. Those were some good, wholesome days because that's when you weren't really looking for something, you just wanted to be accepted. There was no real competition and everybody was just helping everybody, but that's all changed now.
DubCNN.com: How did the song "She's A Skag" end up in the Michael Jackson "Bad' video?
Epic Records didn't have an Urban Department and they didn't want to go fishing for score music so they just picked that record. In the video, when Wesley Snipes chastises Michael Jackson a little bit and he goes inside, the camera pans past a clock. It was crazy because back in the day Michael Jackson used to have those crazy premieres when his videos were going to drop. Everybody was sitting in front of their TV's and had their VCR's waiting. When I was watching the video I thought somebody had drove past playing it in their car. It didn't really hit me until I saw the video again, and then it was like, 'oh, our song is in the video!' I don't even think Michael Jackson knew he had an Ice Cube song in his video. Five years later we blocked him out of number one for five weeks when Michael Jackson was doing the History album. We even got the Billboard to say Ice Cube blocked out Michael Jackson, and it's on our platinum plaque for the record that they gave us. It was really big. That was also the album Cube made history by having the Top R&B, Top 200, and Top Rap, he was the first rapper to do that.
DubCNN.com: With N.W.A. forming shortly thereafter, were you instrumental in getting Cube into that situation with Dr. Dre, Eazy-E, and MC Ren?
Cube asked me and K-Dee if it was cool to do it. You saw the movie when he said, "Jinx ain't gonna like that." We were really like that, we checked in with each other. We had crew dues and stuff like that [laughs]. We were really trying to be a little group. N.W.A wasn't a situation where they chose anybody, it was just who had the best stuff at that time. If you had what Dre wanted, I'd say he would have let anybody in at that time. The music was changing then, too, from the techno world where we were coming from to the gangster world and a lot of people didn't go that way. When Arabian Prince came along, that was the end of the fast songs. You had different people that were involved, but when they started making money and doing shows it's like Nipsey Hussle says, "everybody can't go." [laughs]. At first, Cube wasn't even there, Dre would actually do "A Bitch Iz A Bitch" or "Gangsta" because Cube was in college. When it really started making money then Cube left school and started going on tour. It was just luck of the draw. It was just a matter of who could come off on the track, basically. If you was around, you got on. And best believe me and Warren G was up there every day [laughs].
DubCNN.com: One of your first major projects was obviously Ice Cube's 1990 solo debut Amerikkka's Most Wanted. You contributed to the majority of the record, and produced "Once Upon A Time In The Projects". Talk to me about putting that song together, and the overall contributions you made to the project.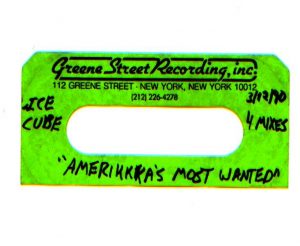 The funny thing about "Once Upon A Time In the Projects" is back in the day I was, of course, dealing with Ruthless and Jerry Heller working on my demos with Maulkie from Yomo & Maulkie. We were trying to write songs to get songs placed on JJ Fad and the people who were around Ruthless at that time. I had my little crew together of me, a group I called Rhythm, Yo-Yo and Del and Ruthless was offering me a separate deal to bring all of them to the label. Rhythm would eventually turn into Souls of Mischief. So the beat to "Once Upon A Time In the Projects" was their demo, so they rapped on it first. When I was kid, my mother worked at manufacturing company called Burkhold who made the stand-ups that go in record stores. The companies like RCA or Epic Records would give the company copies of the records to use as a reference. So in the back of the facility there were stacks and stacks of records, and my mother started bring them home. I started playing all of them and finding these songs. I got in trouble for drawing the Iron Maiden logo on them because I went to a white school and they all thought I was listening to Iron Maiden [laughs]. So this is how long I had the Betty Davis song I sampled.
When we went to New York to work on Amerikka's Most Wanted, I don't even think Cube brought me there to actually work on the record. I think he brought me there just to be there, but you would have to ask Cube why exactly he brought me out there with him. I made my own way because if I would have went out there and didn't bring my "bread basket" with all my disks in it then there's no way I could have created any music around there. All the music I did with them I already had. The first songs they did for the project was "Amerikka's Most Wanted" and "Who's The Mack?" So while I started working with Eric Sadler, the music was a lot faster and a lot more intense with a lot of drops and stuff going on. One day after being in the studio, it had got real late, but I didn't want to go back to the condo we had out there because it was boring. So I would stay in the studio, even sleep there, and meet people. I told them to being up "Who's The Mack?" because that wasn't my song. When they had it, it was just the beat. When they came back in the morning that's when added all those little elements like Marvin Gaye thing and just filling it up big. They had no clue I had any idea how to work on anything. They could have come in like, "Aw, hell naw!" But they didn't, they embraced me and telling me it was dope. I think "Who's The Mack?" was the first single. Once they heard "Who's The Mack?" they got a little bit more comfortable with me and then I laid "Once Upon A Time In the Projects" They went bezerk because that was the slowest song on the record and they didn't even deal with those tempos. So, "Once Upon A Time In the Projects" was by itself and had a life of its own. If I'm not mistaken, "Amerikka's Most Wanted" was the single and "Once Upon A Time In the Projects" was on the other side. It gave birth to that song.
I used a Betty Davis track, and I remember being on the studio with the Bomb Squad when I asked them if anyone knew a bass player. I was coming from the Dr. Dre way of doing things and when I asked them that they were like, 'What?' [Laughs] I was like, "y'all don't use live instruments?" [Laughs] They got me a bass player, guitar dude and the Bomb Squad was just sitting in the back because at first you couldn't really touch the board since you didn't know what presets they had. But after a while they would just sit back and let me do my thing, and pretty soon they wouldn't even come to the studio. I would just be in there working and touching up stuff, just me and Eric Sadler. Hank Shocklee was a producer, but not a hands on producer. He more or less knew how to guide the ship and tell you if the song was wack. Keith Shocklee knew how to do beats and drops, but the majority of all of it was Eric Sadler and Chuck D. The girl on the "Once Upon A Time In the Projects" song was a girl from another session. The dude kind of chewed her out for being in our session. And if you hear her accent you can hear she's Puerto Rican. I was dope, but after that, I didn't want to hear no more New York vocals. So, we started flying the tracks out to L.A. to have people do ad-libs. Again, back to the Dr. Dre situation, they had a record called "Give Me Some Juice" and at the end of the song Dre put the "motherfucker say what?" and all these different scratches; a lot of the same scratches are in "Boyz-N-The_Hood". So I told Cube to go back to L.A. and get a bunch of ad-libs like, "What's Up?", "Cube better watch out", and whatnot. If you listen to Amerikka's Most Wanted you'll hear these crazy ad-libs. Cube got in the studio with T-Bone, J-Dee and Ricky Harris. Also, this is now how Ricky Harris is born. We were doing "Turn Off The Radio" and Ricky Harris would hit me with the "We won't be listening to Ice Cube, Amerikka's Most Wanted because that's bullshit / get that shit out of here, straight R&B". It's funny because through these little funny skit I was doing that gave birth to WBALLS and the Snoop Dogg stuff. And that's also where J-Dee did the "I ain't never got gaffled like that". But when I brought the tapes back it was very hard to put them on beat because they weren't in key with the song. They were just random words. So, T-Bone and J-Dee got a free trip to New York just to do ad-libs [laughs].We brought Yo-Yo out to work with her, but we really couldn't come up with nothing. "It's A Man's World" was supposed to be Yo-Yo's single, but we didn't work on nothing in New York. That's how "It's A Man's World" got on Amerikkka's Most Wanted. We only worked on that album for a month, that's it. We came out in February and left in March.
DubCNN.com: Let's talk about the record with Too Short and Ice Cube, "Ain't Nothin' But A Word To Me". That was really one of the first records done between the bay and L.A. at the time. How did that collaboration come about? And tell me about putting that record together.
A lot of the beats I do, I'm not making them on the spot. I would make them in pieces so I knew how to assemble them right back. And then when I get to the studio I add the keyboards, the bass lines, the guitar and stuff. So, I had that beat already done. When I did the song it was really full and big. It kind of had that "The Formula" feel of The D.O.C.'s song. I wanted it kind of have that feel. Too Short took the record back to Oakland and changed it completely to what you hear now. Too Short liked that [hums the Too Short music part of the song]. He didn't like the other part. It was just a filler in the beat, but Too Short likes it the way he likes it. He took the rest of [hums the Ice Cube music part of the song] which was the actual track of the song and only used it on Ice Cube's part or on the hook. But on his part, he'd take all of that out and just ride the dry beat. I love it! Me and Too Short go way back because he was on the road with N.W.A. Back in the day, people didn't do beats for other people. If you work with this group, you stay with that group. To be able to mix those two together, I was blessed to be able to have a song like that with Ice Cube and Too Short.
The song was dope, it went platinum, and I got a plaque for that. It's funny because I used to get on Cube all the time because he would always say other people's names in the song, but he never said my name [laughs]. But he said it right there in the song, "my nigga Jinx made the mix". That was one of the first times Cube said my name. He had said my name in "The Bomb" from Amerikkka's Most Wanted, but I didn't really take that as him giving me a shout out. That was an N.W.A. track, it was a 100 Miles and Running kind of beat so that rap went to a beat like that, so he was really saying Dr. Dre is the fiddler. So when he said my name there I wasn't really feeling it because I'm not the fiddler, but then everybody started calling me Jinx the Fiddler. I'm like, 'that's not my fucking name!" [laughs].
DubCNN.com: The following year, Yo-Yo drops Make Way For The Motherlode in 1991. Producing the lead single, "You Can't Play With My Yo-Yo", tell me about putting that song together, and working on the album.
Make Way For The Motherlode was already finished before we did Amerikkka's Most Wanted. "It's A Man's World" was originally on Yo-Yo's record. A lot of those songs was done already, but when we got back to L.A. after finishing up Cube's album my head is huge with knowledge. At first, "You Can't Play With My Yo-Yo" was a sample from James Brown's "The Spank" and that's why when you listen to the song you keep hearing that [imitates James Brown's "ha'] because I left it in there, but I changed the beat. I was like, 'you can change the beat?" So I immediately when in the studio and changed it to "Devotions". The "You Can't Play With My Yo-Yo" remix was born, and it was dope.
DubCNN.com: As the architect of arguably the greatest diss track in history in "No Vaseline", what are your thoughts on Machine Gun Kelly's "Rap Devil" and Eminem's response with "Killshot"? Also, how do you feel about people comparing "Rap Devil" to "No Vaseline", with some saying that the MGK diss trumps Ice Cube's diss?
In my opinion, with Machine Gun Kelly, it's not the song that was dope it's what he did and him having the balls to do it. You know, everybody else been talking under their breath with Eminem. It's still rap music at the end of the day, and it's good for the sport. It brought good energy to it, and if they want to take it anywhere else, that's on them. I liked both of the records. I figure diss records are the realest raps because the rest of the niggas are lying. So when you hear a diss record nine times out of ten it's true. I don't think Machine Gun Kelly's was wack, I don't think Eminem's was wack. It was good for the sport, and it's about motherfucking time that two white boys go at it. I mean you had 3rd Bass and Vanilla Ice, but they never really went at each other.
When we did "No Vaseline", of course we didn't want to do it, but Cube had the raps for a long time. So, when you look at a Machine Gun Kelly or Eminem those disses are made up within weeks. "No Vaseline" was made up in years. If you look at how long it took us to drop that record, he already had the raps. When Cube said, "I'll never have dinner with the President" and "Looking like bozos" that was years apart. That didn't happen at the same time, this was a long, thought out written rhyme that didn't lie. It wasn't how diss records are now, it wasn't below the belt. Some of these diss records today are way below the belt which I think is more yearning for shock value rather than the premise of the song. "No Vaseline" did what it was supposed to do and is one of those songs that broke a group up. Like when Nas did "Ether", Jay-Z said he retired after that, so if you make a person put the mic down then that is a diss record [laughs].
DubCNN.com: The "No Vaseline" story has been told several times, and not beat a dead horse, but can you detail some of the nuances surrounding Ice Cube dissing N.W.A back then?
Well, I had already had the beat for "No Vaseline" because originally that song was supposed to be the "How To Survive In South Central" song. I had a few beats kind of in that speed because both of those songs could have been on any number of beats I had already done. When Cube went in, I used to have records done and then I'd leave the studio. Cube would come in later and just start bringing stuff up and putting his vocals on it. So when he did "No Vaseline" I didn't know he was going to do that on that particular track.
Also, one of the reasons the Amerikkka's Most Wanted album was able to be recorded so fast, and I'm sure Cube has probably touched on this before, was because we didn't want to diss Dr. Dre or N.W.A because we wasn't even thinking like that. The biggest diss out of everything was Cube taking all of their raps and doing over on the Amerikkka's Most Wanted album. N.W.A couldn't do those songs now. So every song Cube gave Eazy-E, Cube did on his solo album. "Once Upon A Time" was an Eric song, "Gangsta Fairytale", and "The Nigga You Love To Hate" was originally "The Niggas You Love To Hate" for N.W.A. People didn't really get it, but everybody at Ruthless Records got it. What were they going to do, do the raps anyways? So that was kind of the kick in the ass to them, that was the diss. They couldn't use Cube's music. He used every song he had for them on the album, that's why on one side of it it's "activist", one side is "fairytale", and another side is he's having a good time. All the fairytale kind of songs were written in the tense of Eric. So, when we did it for the project it just made the album so round and vast of ideas.
DubCNN.com: Your work with Kool G Rap on his 1992 release Live And Let Die is remarkable. Tell me about working with G. Rap and putting that project together.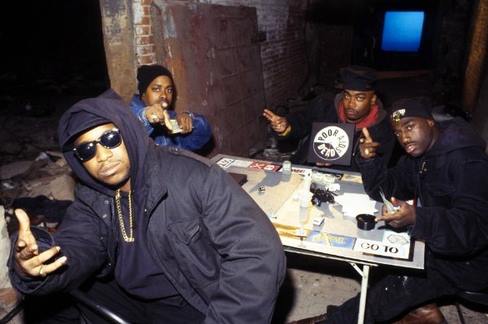 Me and Kool G Rap worked on Live and Let Die all day, every day. The only features on that record was Big Daddy Kane on "#1 With A Bullet" and Scarface, Bushwick Bill, and Ice Cube on "Two To The Head". No more features, Kool G rap took that to the net. G Rap brought some of the beats with him like "Train Robbery", so I co-produced on those because he already had some of the beats and then I just added my stuff to it.
DubCNN.com: "Two To The Head" featuring Scarface, Kool G Rap, Ice Cube and Bushwick Bill. Tell me about putting that record together and working on that collaboration between East, West, and South.
When I did "Two To The Head" I had already had the beat. I was always hesitant to use that beat because of the diggy-diggy-doc y'all, The D.O.C. song and Dr. Dre's beat. It was basically a rendition of "D.O.C. and the Doctor". We all came from the same kind of pick it music because only so many genres came to our area. We were all in tune to the same thing, but who could do it better? Most of all the rap songs in the 90's came from the beats & breaks, so we were all familiar with the same ones. You can listen down through a couple of little bars in the songs and you'll find a whole other song and that it was in somebody else's song, too. When I was working with Kool G. Rap I just wanted to see if he liked the beats I had because "Two To The Head" could have been an Ice Cube beat. When Kool G Rap heard the beat, it was just a bare SP-1200 sample and he liked from that. I already knew Scarface and then G Rap wanted Bushwick Bill, too, so I had Face bring Bushwick with him. One of the regrets I really, really have is not putting Willie D on it. Willie D was there at the studio when we did it, but it was G Rap's record so I couldn't just put him on it, you know? I really would have loved to hear Willie D on it. After listening to Willie D, I noticed that a lot people copied his style, but I didn't hear it until I got away from it.
DubCNN.com: That must have been incredible so see Ice Cube, Scarface, Bushwick Bill, and Kool G Rap all working on this record together in the same room.
I remember when we were working on it, and seeing Scarface laying on the floor in front of the board writing his and Bushwick Bill's verse. He wrote it non-stop for maybe 20 minutes. He gave Bushwick Bill his verse and he went and learned it, came back and laid it down, then Scarface did his, Cube did his, G Rap did his, and no one filmed this happening [laughs]. They were all there at the same time. And at the time, The Geto Boys were looked at as a west coast group, until the down south explosion and then they were the kings of the south, they were best-selling group from down south. Now, it gives me a different trophy producing the first record that featured artists from the west coast, east coast, and down south. "Two To The Head" was a dope song. If you have good system play that beat and "D.O.C. and the Doctor" and I bet you'll love it.
DubCNN.com: Another classic record you produced during this time frame was "Trespass" with Ice Cube and Ice-T for the Trespass movie soundtrack. While the movie may not have been anything to write home about in the grand scheme of things, the collaboration between these two, with Sir Jinx behind the boards, was definitely a highlight.
At that time that was the most expensive song I ever got paid for [laughs]. Paramount asked me how much I wanted to do the song and I gave them a figure. We went in and did the song, but then they had to change the name because at first it was Looters. Then the riots in L.A. happened so they had to change it to Trespass. We had to go back in, so I was paid the same amount again because we had to change it up to fit the new title. Then, Cube said a line about 'your head busting like JFK' and they didn't like that, so we had to go back in and change it. Again, I got paid my amount for a third time. Every time I went in the studio to change the song they gave me the same amount that I asked for in the beginning. I think I touched that song about 7 times [laughs].
We changed the Ice Cube line about the head busting open like JFK, but then Ice-T wanted to change his to say something crazy because he wants to outdo Cube's JKF line. So Ice-T changed his line and said something crazy and the Paramount people were like, "Oh, no!" They were like, "Please take that verse out and put the other one back?" Every time we had to change something and go back in the studio I got paid the same amount I asked for in the beginning [laughs]. Then the sample didn't clear! Now we had to change the complete song, so the version you hear is not the original song we did. I'm telling you, this is the most expensive song I ever got paid for [laughs].
DubCNN.com: One of the more recent pieces of work you've done is T.I.'s 2016 single "Dope". Can you tell me about putting that joint together with Dr. Dre?
In my mind, the song similar to "Once Upon A Time In The Projects" because when I made the "Once Upon A Time In The Projects" beat it was one of the first beats I looped in the SP-1200 so I had the beat for a while before we recorded to it. Around 2006 obviously the technology is changing with everybody dealing with Fruity Loops and computer programs that played music. My mind is still thinking a good drum beat comes from tapping on the pad and I loved that, but now it's from a computer keyboard? My mind wasn't telling me to beat on a keyboard to get the same feeling as tapping on a pad from a drum machine. My homie Def Jef came over and sat me down and showed me how to work with Reason. The first beat I did with Reason was "If I Die Tonight" that's on my Beats For Food project which was a Marvin Gaye sample. After that, I did "I Pray" which was an O'Jays sample and Sadat X of Brand Nubian liked that beat. I let Dr. Dre hear it and he put me in the studio to mix it for Sadat X. The third song I did was "Dope" when I took Aaliyah's voice and made her come alive. I had a mix of it with 2Pac's "So Many Tears" and Aaliyah's "Rock The Boat" that I did, but the sequence was off beat. I took Aaliyah's part from that mix and put it into a new beat. So that's how the "Dope" song was created, off of a mix I had created. When I made it, I knew it was something crazy.
DubCNN.com: How did "Dope" find its way to Dr. Dre, and ultimately being recorded by T.I.?
Around Thanksgiving I get invited a family thing and I go over there, and Dr. Dre is over there as well. We didn't talk about no music, just eating good food and watching football. Right at the end, as I was leaving, Dre stops me and is like, "I know you got some beats." I told him I had some in the car [laughs]. I went out the car, got the cd with the "Die Tonight", "I Pray", "Dope" and a bunch of other beats on it. There was like nine beats on there and he liked them all, but the one he stopped on was "Dope". That's the only one he played the rest of the night. The next day he called me and told me he wanted that beat.
The crazy thing about that beat, is that when he told me he wanted it I was in the studio and I was putting all the tracks on a hard drive, but when I went to put "Dope" on there I had accidentally drug the file to the desktop instead of the hard drive. I wasn't really worried about it because the file wasn't that big, so I put the hard drive in my backpack and went home. The next morning when I wake up my car is gone, with all my equipment in my car. Somebody stole my car in my drive way! That was the only time I had ever left my equipment in my car like that. And that morning Dre calls and tells me he wants the "Dope" beat. I had to calm my mind because I'm thinking the "Dope" beat files were in my backpack, but I remembered it was on my desktop. Those other songs I won't see again, but I'm glad I had the "Dope" beat [laughs].
DubCNN.com: How did you feel about what Dr. Dre and T.I. did with the track?
When he first invited me over to listen to it, it had Jay-Z on it. When I made the beat, I used the "Still Dre" acapella, so it was dope that Jay-Z happened to be writing the rap for Dr. Dre to this record. This was the dopest shit of all time to me. When initially heard the Jay-Z vocals I wasn't really impressed, but I like Jay-Z. When I heard his voice on my beat that was like a bucket list type of thing. The person that delivered the beat to Jay-Z didn't tell him that 'I feel like I'm on dope' wasn't supposed to be about actual dope. It's supposed to be feeling like you're on dope like when your daughter is born, or when you see somebody for the first time after so many years apart you feel good, like you're on a high. I think if Jay-Z had known that reasoning behind it and the inspirational feeling behind the making of the track it wouldn't have been about actual dope. Anyways, Dre laid his vocals over it and I thought it was going to be on Detox, but it never happened.
DubCNN.com: Around what year is this that this is occurring?
This is in '09, around the time I had told you about me and Dr. Dre working on a dope song [laughs]. Years later, in 2016, Dre calls me and tells me T.I. wants to use it. T.I. jumps on it and does the same kind of context as Jay-Z did on it. And again, I wish he would have known what was behind the song's creation because I feel like my original message for the song got lost. But the song came out dope with T.I., Marsha Ambrosius, and Dr. Dre's production on it. I was more impressed with what they did with it than my message [laughs].
DubCNN.com: That's crazy how many different versions of the song there is with Jay-Z rapping on it, Dr. Dre rapping on it, and then T.I. bringing it home with Marsha Ambrosius.
There's a version with Dr. Dre on it because Dre would change some of the stuff Jay had written, so there's an accurate version with Jay-Z on it somewhere. Both of those versions were crazy, too. This is kind of weird, but R. Kelly was in the mix, too, he was up to bat for it as well. At one time, too, Dre was giving it to Common. And then we were also trying to relate it to someone who actually knew Aaliyah, so Missy Elliott came in to the picture. So this beat was being tossed around for years before it landed with T.I., but it definitely came out dope! And that was the first beat me and Dr. Dre ever worked on together, ever.
Sir Jinx was speaking to Chad Kiser, exclusively for DubCNN.com. Copyright 2018.