Ant Banks has a career spanning through four decades and a litany of Gold and Platinum success with artists including Too Short, Ice Cube, E-40, Mack 10, Snoop Dogg, Spice 1 and others.
While often overlooked in conversations about west coast producers, Ant Banks productions and mixes are on par with, if not exceeding, those of his peers like Dr. Dre and DJ Quik.
By the mid-80's Ant Banks had already began flooding the streets of Oakland, CA with a slew of independent projects and birthing what became known as the "Oaktown Funk". In those beginnings, he was working with friend and Oakland rap sensation MC Ant in 1985. The two recorded numerous 4-track cassette classics like "Dance Floor", "Feel the Bass" and "M.C. Ant & Ant Banks" along with several others. In 1988, Ant Banks and MC Ant released their first album entitled M.C. Ant The Great, with joint collaborative efforts by DJ Terry T. Distributing the tapes at their high school, out of the trunk of their cars, the album went on to sell more than 60,000 units independently.
In late 1988 Ant Banks connected with M.C. Pooh, a/k/a Pooh-Man, to record Life of A Criminal, which contained the underground smash "Fuckin' With Dank". With the surge in popularity, Pooh-Man's record accounted for upwards of 200,000 units sold, independently. Not long after, the news began to spread of the remarkable feats Banks and Pooh were doing, and both were soon scooped up by Too Short to join his Dangerous Music imprint on Jive Records.  Ant Banks produced his first major-label record, which also netted him his first Platinum-certified record, when the soundtrack to the movie Juice was released in December of 1991, and Pooh-Man's "Sex, Money, & Murder" was featured. The record would also be the lead single to Pooh-Man's Funky As I Wanna Be album, which was released 3 months later in March of 1992.
Pooh-Man Ft Too $hort & Ant Banks – Funky As I Wanna Be (Video)
Following up on the success with Pooh-Man, Ant Banks went on to produce for Spice 1 (whom he had begun working with in early 1991 on Spice 1's 187 Proof E.P.), and put together another successful project, Spice 1, with his signature production, selling more than 500,000 units and going Gold. With the lead single "In My Neighborhood" kicking off the album, the incredible success was beginning to turn Ant Banks into a prominent figure in not just the bay area hip-hop scene, but throughout the industry.
The success that Ant Banks was having convinced Too Short to collaborate with him in utilizing Banks' production prowess to revamp the sound of Too Short. More career-defining success soon followed with Ant Banks' fingerprints all over the platinum-selling Shorty The Pimp album released in July of 1992. Having already been released on the Juice soundtrack, "So You Want To Be A Gangster" was a fantastic introduction to the first time we'd hear Too Short spit over an Ant Banks beat. Inspired by Grover Washington, Jr.'s "Black Frost", the song is a fresh reminder that Too Short does talk about more serious topics than just X-rated escapades.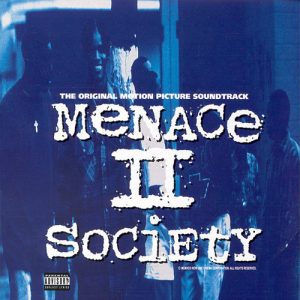 Ant Banks made his second appearance on a platinum-selling soundtrack when his solo record "Packin' A Gun" was featured on the Menace II Society Soundtrack, along with Too Short, Spice 1, DJ Quik, MC Eiht and others. "Packin' A Gun" sampled Eazy-E of N.W.A, and the soundtrack reached #1 on the Billboard Top R&B/Hip-Hop Albums chart in May of 1993. During this same year Ant Banks released his solo debut, Sittin' On Something Phat, a project full of non-stop, banging funk and guest features from Spice 1, Too Short, Pooh-Man, and Goldy.
Continuing to elevate his production capabilities, "The Big Badass" was beginning to get himself recognized for his uncanny ability to churn out dope music at a feverish pace. Settling into a comfort zone with Too Short, Banks worked on Get In Where You Fit In, mixing and producing the platinum-selling album in 1993. Collaborating with fellow producers Shorty B and Pee-Wee (collectively known as The Dangerous Crew production team), the record spawned classic songs including "I'm A Player" and "Money In The Ghetto". Ant Banks produced "All My Bitches Are Gone", "Oakland Style", "Way Too Real" and others.
The Big Badass, the second album from Ant Banks, dropped in the middle of 1994, and while the Dangerous Crew handled much of the rapping duties it showcased his extraordinary ability to flip classic P-Funk samples into deep, oozing bass lines of galactic west coast funk. It's here that Ant Banks truly began to put on full display his production style of heavy funk, slow-rolling bass, and sparkly keyboard riffs. "The Loot", "Parlayin'", "Pimp Style Gangstas", and "Straight Hustlin'" capture his invaluable ability to not only feel a great groove, but to manifest it into a syrupy, head-nodding opus with an inexplicable sonic quality.
Collaborating with Spice 1 on 1994's Amerikkka's Nightmare, Ant Banks seized the opportunity to raise the bar with "Face Of A Desperate Man". Taking "The Memory" by Roy Ayers and turning it into one of the illest tracks ever released, Ant Banks put himself on par with his peers, and entered any discussion debating who is the dopest producer in hip-hop. Contributing 4 tracks to Spice 1's '94 opus, Ant Banks again earned himself a Gold plaque, and deservedly so.
Spice 1 – Face Of A Desperate Man (Video)
After spending much of the 90's producing for Too Short and Spice 1, respectively, and having accumulated 7 Platinum and 3 Gold records to boot, Ant Banks began branching out and working with other artists. In 1996 Vallejo rapper E-40, who had already released two albums, was still a rising star in the bay area. When he and Ant Banks connected for 40 Water's Hall Of Game album, the two hit big with the lead single, "Rapper's Ball", which also featured Too Short, and K-Ci & Jo-Jo of Jodeci. The music video for "Rapper's Ball" featured cameo appearances by 2Pac, Ice-T and Mack 10. Released in October of 1996, Hall of Game went gold in 3 months. E-40 and Ant Banks would connect for another Gold record with 1998's The Element of Surprise, adding "From The Ground Up" to their burgeoning hits list as they would continue to collaborate on numerous songs.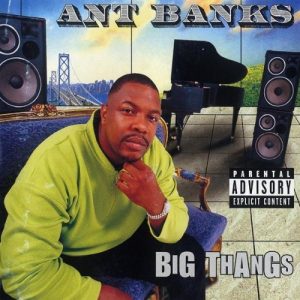 By 1997 Ant Banks was no longer just a "bay area" producer, as his style of production began to form creative collaborations with several of the industry's biggest names. Now with Priority Records, he recruited some of the West Coast's preeminent artists to assist him on the Big Thangs compilation masterpiece he was assembling. The results of his recruiting efforts included Ice Cube, 2Pac, King T, WC, Dr. Dre, Coolio, Mack-10, and Ice-T. The strategy paid off as the project peaked at number 4 on the Billboard Top R&B/Hip-Hop Albums, number 20 on the Billboard 200, and sold over 300,000 units with no video & very little radio play.
The title track "Big Thangs" features Ice Cube and Too Short in only their 2nd collaboration to date, while turning Kool & the Gang's "Summer Madness" in to a player party anthem that keeps the good times rolling. "West Riden'", "4 Tha Hustlaz", and "Can't Stop" are a small sampling from the project which highlights the pristine brilliance of Ant Banks when he's behind the boards.
April 1999 saw Ant Banks release the T.W.D.Y. (The Whole Dam Yey) Derty Werk project, experiencing a substantial hit with the lead-single "Player's Holiday" and reaching #41 on the Top R&B/Hip-Hop Albums. T.W.D.Y. consisted of the core of Ant Banks, Rappin' 4-Tay, and Captain Save'Em, with features from several of the bay area's finest like Spice-1, Too Short, E-40, Mac Mall, B-Legit, Keak the Sneak and others. A little over a year later, Ant Banks followed with the second T.W.D.Y. album entitled Lead The Way, in which Oakland emcee Dolla Will replaced Rappin' 4-tay, and saw Ant Banks collaborate with a mind-blowing roster of guest features from some of California's best rappers in artists like Kokane, Kurupt, MC Eiht, Butch Cassidy, Yukmouth, Ice-T, Too Short, King T, Dru Down and Cold 187um. Both T.W.D.Y showcased Ant Banks' distinctive rhyming style, as well as his ear for thick, funky grooves, and his penchant for making his tracks resonate with deep bass and party rhythms, as evidenced on songs like "Lead The Way", "Cali 4 Ni Yey", "In the Ghetto", "Shut Up" among others.
Players Holiday – T.W.D.Y. ft. Too $hort and Mac Mall (Audio)
Most recently, Ant Banks re-connected with Pooh-Man and produced the majority of Pooh's latest release, Kaos Theory. Doing what he's done best in using his meticulous production ingenuity and mixing brilliance, Ant Banks re-established his relevancy and his position as one of the dopest producers in the industry with songs like "Get Me Started", "Mesmerized", and "All My Life".
Ant Banks is a truly talented and heavily underrated producer, but the real heads know about his contributions to an incredibly vast amount of classic 90's and early 2000's projects. His productions have been part of selling over 27,000,000 units and counting, and to this day there are only a small portion of producers who can boast that kind of track record.